Herd Reductions Could Reduce Grain Demand
CANADA - An agricultural economist with the University of Missouri expects livestock herd reductions in response to rising feed costs due to drought to reduce the demand for feed grains this coming winter.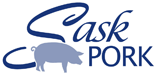 Farm-Scape is sponsored by
Manitoba Pork Council and Sask Pork
FarmScape is a
Wonderworks Canada
production and is distributed courtesy of Manitoba Pork Council
and Sask Pork.
In response to the largest number of acres planted to corn in the US since 1937, corn prices trended down until about mid-June when concerns over dry weather started pushing prices up to where they've hit record levels well above eight dollars per bushel in recent days.

Dr Ron Plain, an agricultural economist with the University of Missouri says, due to the drought, we're not producing as much feed for livestock and poultry so we're looking for herd reductions to help stretch that reduced crop to the 2013 harvest.
Dr Ron Plain-University of Missouri:
In the case of hogs we've seen a pick up in sow slaughter and a drop off in gilt reduction. Our data indicates since about the first of July or so we've been slowly shrinking the size of the sow herd in the United States and that's probably going to continue given the outlook for feed costs and hog prices.

On the cattle situations not only has the drought hurt the corn crop, it has really hurt our pasture supply and we're very short on grass so a tough situation there for the cattle industry.

But we're looking at very strong cattle prices so, so far not a big cutback in the cattle herd is evident. If you look at the cow slaughter data, dairy cow slaughter is up quite dramatically from a year ago. Not quite the same case in the case of beef cattle slaughter.

My expectation is that we'll see a big jump in beef cow slaughter this fall after we wean off the spring calf crop.

Dr Plain says exports will be a key factor and the U.S. Department of Agriculture is forecasting a decline in corn exports because of the high price.

He says the South American crop will be a factor, how many acres of soybeans and corn farmers plant in Brazil and Argentina and their yield prospects.

For Farmscape.Ca, I'm Bruce Cochrane.
TheCattleSite News Desk