Reduction of Dust Levels In Livestock Barns
CANADA - A new technology designed to reduce the level of airborne contaminants within livestock barns offers improved comfort for animals and barn workers and improved productivity, writes Bruce Cochrane.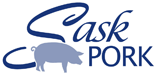 Farm-Scape is sponsored by
Manitoba Pork Council and Sask Pork
FarmScape is a
Wonderworks Canada
production and is distributed courtesy of Manitoba Pork Council
and Sask Pork.
The EPI or Electrostatic Particle Ionization system was launched in western Canada by Paradigm Agri-Solutions last week as part of Hog and Poultry Days 2010 in Winnipeg.

Baumgartner Environics president John Baumgartner explains the system discharges negatively charged ions into the air space of a confinement feeding production room and those ions polarize airborne particles causing them to be attracted to any grounded surface.
John Baumgartner-Baumgartner Environics
We have developed a unique way to distribute those ions inside a large animal production space in a way that enhances the air quality for the animals and I might say improves air quality for the workers as well.

What we're seeing in our ongoing tests is that we typically will reduce dust, gases and pathogens by at least half and sometimes up to 80 per cent inside a typically ventilated room.

This is resulting in a much healthier environment for the animals and they're producing better.

They're producing well enough that, an example in British Columbia broiler production, independent testing has shown an average additional profit of four a half cents per bird which generates quite a bit of revenue and actually pays for the system in about a year.

Mr Baumgartner says animals can use more feed energy to grow than to fight off challenges and what's been observed over a number of trials is they tend to gain weight in less time or they gain more weight with the same amount of feed.

For more information on the EPI system visit paradigmag.ca.
TheCattleSite News Desk