Tracking the Role of Low Fat Dairy and Weight Loss
CANADA - Research underway at the University of Manitoba is tracking the value of low fat dairy products in helping reduce obesity, writes Bruce Cochrane.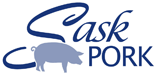 Farm-Scape is sponsored by
Manitoba Pork Council and Sask Pork
FarmScape is a
Wonderworks Canada
production and is distributed courtesy of Manitoba Pork Council
and Sask Pork.
As part of a study being conducted by the Richardson Centre for Functional Foods and Nutraceuticals in collaboration with the Australian Nutritional Physiology Research Centre, participants provided low fat milk and yogurt will be monitored for one year.

Richardson Centre research and development manager Dr. Curtis Rempel says a low dairy group will be compared to a high dairy group to evaluate the role of the protein in the dairy in reducing weight.
Dr. Curtis Rempel-University of Manitoba
The low dairy group would be people who typically would eat a serving of dairy, that being a glass of milk or 100 to 200 grams of yogurt per day.

Those are sort of the background population.

We looked for people who fit that pattern and then for half of that group, they will be on a high dairy and so they will be having four serves of dairy per day.

The idea is that using low fat dairy which by definition then would have higher protein levels and in particular the protein that were looking at is whey protein so we're using milk and yogurt.

We're looking at investigating whether the whey protein actually increases fat burn while conserving lean muscle mass.

What you want to is you want to have muscle mass conservation because, and I'm over-simplifying here a little bit, that helps keep your metabolism up and that helps weight loss.

One of the issues with a lot of diets is that as you start restricting energy, especially some of the more fad type diet programs, your metabolism just starts slowing down to compensate.
Dr. Rempel expects after one year to see people losing some amounts of weight.

He notes the study is just underway and volunteers interested in participating can get more information through the centre's web site.

TheCattleSite News Desk