Farm Education Centre to Target Youth
CANADA - Beginning in the Fall of 2009 the National Centre for Livestock and the Environment plans to expand its public education and outreach with the opening of the Glenlea Farm Education Centre, writes Bruce Cochrane.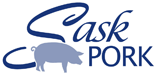 Farm-Scape is sponsored by
Manitoba Pork Council and Sask Pork
FarmScape is a
Wonderworks Canada
production and is distributed courtesy of Manitoba Pork Council
and Sask Pork.
The National Centre for Livestock and the Environment, located at the University of Manitoba's Glenlea Research Station, is a multi-disciplinary research facility which allows scientists to study the economic and environmental sustainability of integrated livestock and crop production systems.

Construction of the Glenlea Farm Education Centre is scheduled to begin in the spring of 2009.

Project manager Wendy Molnar says the new facility will be open to the public but the main focus will be on school children.
Wendy Molnar-Glenlea Farm Education Centre
Through real interesting hands on activities and exhibits we're going to be providing the visitors an opportunity to learn more about agriculture, whether it's the crops that are grown in Manitoba, about the animals that are raised on the farms, how our food is produced and processed in Manitoba and in Canada and then, again how Canada's food system is one of the best in terms of food safety.

And I know that that's a concern for al of us these days and so this centre is going to help promote that information and share that information with visitors.

The primary audience for the education centre are middle school students.

We've done a little bit of research on the school curriculum and we've discovered that it is through these years that the students are learning about agricultural production, about food safety, about food production in the world and in Canada.

That's why we wanted to target the exhibits and programs to that sector of the school system.

However, we feel that the centre is going to be of interest to young families, to anyone interested in Manitoba's agricultural systems.

Molnar says the exhibits will based on research conducted through NCLE and, as that research is updated and new information is discovered, it can be incorporated into displays.
TheCattleSite News Desk