Transition to Active Research Phase Observed
CANADA - The University of Manitoba's new National Centre for Livestock and the Environment has officially observed the progression from the infrastructure building phase to the active research phase, writes Bruce Cochrane.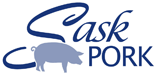 Farm-Scape is sponsored by
Manitoba Pork Council and Sask Pork
FarmScape is a
Wonderworks Canada
production and is distributed courtesy of Manitoba Pork Council
and Sask Pork.
Located at University of Manitoba's Glenlea Research Station, the National Centre for Livestock and the Environment, consists of state of the art feed processing facilities as well as facilities to house a range of livestock species including swine, beef cattle and dairy cattle.

NCLE chair Dr. Don Flaten says the unique thing about the national centre is its focus on multi-disciplinary long term research.
Dr. Don Flaten-University of Manitoba
The National Centre for Livestock and the Environment is focused on multi-disciplinary systems level research that tries to integrate expertise in science from a variety of different places and institutions to try and look at whole farming systems.

In this case we're focused on trying to make better use of energy, nutrients for example through an integrated livestock production system combined with a soil and crop management, crop production system and trying to make better use of, for example, manure in that cycle.

If you take a look at agricultural research over the last 100 years it's tended to get more and more specialized.

In order to acquire the expertise that you need to advance science, you require very in depth expertise and what NCLE is trying to do is connect across those pillars of technical depth and connect together.

We work with bio-systems engineers and plant scientists, soil scientists, animal scientists and ecumenists all working together to try to see how the system can be optimized using the most advanced technologies and techniques in each individual field.

Dr. Flaten says one of the great things about NCLE is that it facilitates partnerships, that include not only scientists with the University of Manitoba but also from other research institutions, government and the private sector.
TheCattleSite News Desk