Downward Pressure on Feed Grain Prices Reported
CANADA - The Canadian Wheat Board reports unfavorable weather during harvest is increasing the volume of crops being downgraded to feed putting downward pressure on feed grain prices, writes Bruce Cochrane.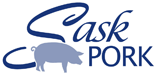 Farm-Scape is sponsored by
Manitoba Pork Council and Sask Pork
FarmScape is a
Wonderworks Canada
production and is distributed courtesy of Manitoba Pork Council
and Sask Pork.
With North American farmers now in the midst of harvest the feed grain situation in western Canada has been quite dynamic.

Canadian Wheat Board weather and market analysis director Bruce Burnett says feed wheat supplies on the prairies are usually determined more by the weather than anything else and heavy rains during the past weekend have caused some downgrading of wheat into the feed category which, combined with problems in other regions, is increasing feed wheat supplies.
Bruce Burnett-Canadian Wheat Board
This year, in terms of the lower quality of feed quality wheats, we're seeing quite an increase in supply of that type of wheat.

Certainly in parts of Europe and the former Soviet Union we've seen some difficulties during parts of their harvest that's caused some downgrading to feed.

As well the protein levels generally speaking have been fairly low in those regions which have also caused some of the wheat to fall into the feed category.

In the United States, although we haven't seen any harvest difficulties, certainly the soft red winter wheat crop has been quite a bit larger than normal and, because of the higher corn prices, some of that wheat has worked its way into the feed rations both domestically in the U.S. as well as offshore.

Burnett notes, overall, feed grain supplies on the prairies are still relatively tight.

He suggests, while feed barley prices will be supported by lower than normal barley production, that support will be offset somewhat by the increased availability of global feed wheat supplies.

He adds relatively high U.S. corn prices had supported prices during the summer but, as those values have dropped off prices have eased in the market place.
TheCattleSite News Desk