Prototype Solid Manure Injection Going Well
CANADA - The Prairie Agricultural Machinery Institute reports field tests of its latest field scale prototype solid manure injection system are going well, writes Bruce Cochrane.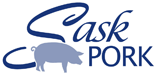 Farm-Scape is sponsored by
Manitoba Pork Council and Sask Pork
FarmScape is a
Wonderworks Canada
production and is distributed courtesy of Manitoba Pork Council
and Sask Pork.
The Prairie Agricultural Machinery Institute at Humboldt, in partnership with the University of Saskatchewan, is in year two of a three year study of a sub-surface solid manure application system.

The two piece system uses a series of discharge screw conveyers to auger solid or semisolid livestock manure to flexible injectors which deliver the material to coulters that open trenches in the ground into which the manure is deposited and the trenches are then closed.

Project Engineer Dr. Hubert Landry says researchers have been working with solid beef cattle manure but the system will handle any type of solid livestock manure as well as other byproducts such as municipal sludge.
Dr. Hubert Landry-Prairie Agricultural Machinery Institute
Mechanically speaking we still have a number of small issues that we would like to look into but the prototype is functioning fairly well so, from a mechanical point of view, we would be fairly close to being able to go to market.

Now the technology is not proven yet as far as its benefits on the agronomy side of things as well as on the environmental side of things.

So we really need to look into those aspects before we can really foresee a market application.

Also the market uptake is not under our control.

Obviously we have to demonstrate the technology and generate enough interest to make sure that we have a successful marketed option.

Dr. Landry notes the injection system, which is novel, offers uniformity of distribution as well as very good control of the rate of manure application and is a great improvement over what is currently commercially available.

He says the ability to control the rate of application of nutrients will allow the crop producer to take full advantage of a valuable source of crop nutrients while providing the livestock producer an outlet for his manure.
TheCattleSite News Desk