Doors to be Open to Higher Yielding Wheats
CANADA - The Western Feed Grain Development Co-op says the August 1 elimination of kernel visual distinguishability requirements in the registration of wheat will open the door to the development of new high yielding varieties of wheat suitable for livestock and bio-fuel production, writes Bruce Cochrane.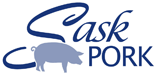 Farm-Scape is sponsored by
Manitoba Pork Council and Sask Pork
FarmScape is a
Wonderworks Canada
production and is distributed courtesy of Manitoba Pork Council
and Sask Pork.
The Western Feed Grain Development Co-op was established in 2005 to address the difficulties associated with developing and registering high yielding, high starch varieties of disease resistant wheat dedicated to dogmatic use.

On August 1 kernel visual distinguishability or KVD will be removed as a registration criterion for all eight western Canadian classes of wheat.

Co-op director David Rourke says the livestock industry and the ethanol industry in western Canada will certainly benefit from having a higher yielding starchier type of wheat available.
David Rourke-Western Feed Grain Development Co-op
It's tended to be, is there a frost in Saskatchewan that has caused the hard red spring wheats to be degraded and then result in a lot of cheap feed wheat but that's pretty expensive feed wheat.

It's low yielding and then you get downgraded because of frost so you're selling a product usually at a loss into a market that's not paying very much.

On the other hand, if you're growing a high yielding wheat that's starchy and it's actually worth a bit more because of the starch in those particular markets, a farmer producing those things can actually do quite well.

Those two industries, by having starchier high yielding disease resistant lines come into the market will make us more competitive on a more consistent basis in livestock feeding and ethanol production.

Rourke notes the co-op has a number of promising lines under multiplication now and he hopes to have data on those lines by fall.

As well, he says, wheat breeders have dusted off some of their shelves and found other lines that may meet the new requirements so there is already new material being brought into the registration system and he expects that to continue.
TheCattleSite News Desk