Transport Program Welcomed in Canada
CANADA - Alberta Farm Animal Care reports the response to a new national livestock trucker training program has been exceptional, writes Bruce Cochrane.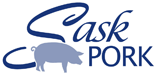 Farm-Scape is sponsored by
Manitoba Pork Council and Sask Pork
FarmScape is a
Wonderworks Canada
production and is distributed courtesy of Manitoba Pork Council
and Sask Pork.
The Certified Livestock Transport program was launched in May 2007 and is being promoted to livestock truckers across Canada.

The program focuses on the relocation of livestock and includes information on cleaning the trucks, loading and unloading livestock, biosecutiry, the laws and regulations across Canada and the United States pertaining to moving livestock and information on crossing the border and reentry into Canada.

Mikki Shatosky, the Certified Livestock Transport program coordinator with Alberta Farm Animal Care says the program has been really well received.

Mikki Shatosky-Alberta Farm Animal Care
The program was developed by industry, truck drivers, and by the Alberta Farm Animal Care and our sister groups across Canada for livestock transporters, shippers and receivers just to help them understand better how to handle livestock, how to move them safely and humanely.

The program is available across Canada.

It has different modules.

There's a core content that talks about the general transportation, relocation of livestock.

Then we have modules that break down into beef, hogs, horses, sheep and poultry.

It has been accepted really well across Canada.

We have 58 trainers right now and as of right now I believe we have about 160 truckers that are trained under the program.

Shatosky notes a support system is being set up that will allow truckers to address questions or concerns by calling a toll free number.

She says truckers who have concerns about the livestock they are picking up or delivering or who are on the road and have run into problems can call 1 800 506-2273 and whoever answers will be able to provide assistance or direct the caller to somebody who can to ensure the animals are being delivered humanely and are being dealt with properly.

TheCattleSite News Desk