Ivan Leyva-Baca, DVM, PhD
Animal Health Product Applications at Thermo Fisher Scientific
Describe your pilot program for Tritrichomonas foetus with the Faculty of animal science and ecology of the Autonomous University of Chihuahua, Mexico
In 2013, Thermo Fisher Scientific worked with the faculty of animal sciences in Chihuahua, Mexico to set up a diagnostic lab. The diagnostics team was focusing on several diseases due to producer concerns, but they had never considered Tritrichomonas foetus and did not have an active Trich testing program in place for bulls. Chihuahua reported the state calving rate is about 55%, which is quite low compared to other countries.
The Thermo Fisher and the Chihuahua diagnostic laboratory teams hypothesized causes of their low calving rate. Producers were already using commercial vaccines that are high quality against abortive diseases, and they were breeding with good genetics from the US and other regions to increase scrotum circumference and versatility. They were also supplementing nutrition so the herd reached the proper weight for breeding.
Study Design
A pilot study was conducted to investigate the prevalence of Tritrichomonas foetus in commercial bulls in the state Chihuahua. The study used Thermo Fisher products, instruments and consumables.
There are about 60,000 bulls in the state of Chihuahua. Based on published studies from Latin American regions using culture-based diagnostics, it was assumed that a Trich prevalence of 20% to 25% existed in the state. Part of the methodology was simply trying to collect as many bulls as possible and in all, 762 bulls were tested. They were collected by scraping using a TrichIT, a commercial pipette (Morris Livestock products), and they inoculated an InPouch device (Biomed) that was incubated at 37?C for 24 hours. Following incubation, they extracted the nucleic acid using Thermo Fisher's MagMAX™ sample preparation kit. After extraction, the USDA-licensed VetMAX™ Gold Trich Detection Kit was used on all the samples.
Results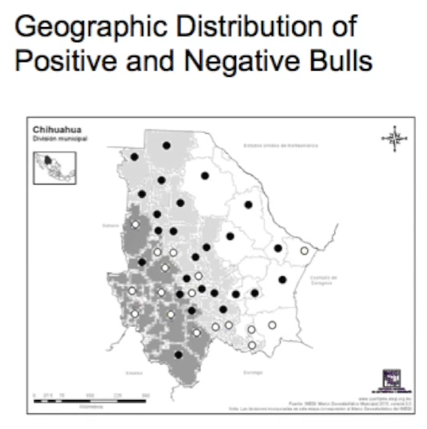 Every black dot indicates a district with positive bulls in the state of Chihuahua, Mexico. From the sample, 160 positive bulls were detected, indicating a 23% prevalence, which is considered high.
The white dots indicate the Rocky Mountains and the prevalence there seems to be lower possibly because of two reasons: 1) a lower number of samples was taken in the area or 2) the owners are not able to share the bulls as frequently because it's difficult to access different ranches.
About 60% to 65% of the bulls five years or older were positive for Tritrichomonas foetus, suggesting age is a significant risk factor. In the state of Chihuahua, it's difficult to get bull replacements easily because it's very costly. Producers tend to believe that bulls will last forever, so it's difficult to convince them to keep a fresh body of bulls.
There are two hypothesis of why age is a risk factor.
The development of crypts on the bull's prepuce seems to harbor Tritrichomonas foetus.
Older bulls tend to be dominant over younger bulls, so they breed more cows and that promiscuity brings a little bit more exposure.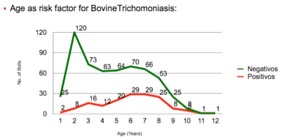 What was the testing's return on investment?
Our economic review of Trich in Mexico includes several variables, demonstrating the value of increasing an operation's calving rate. A strong economic incentive exists for producers to reduce the prevalence of Tritrichomonas foetus through improving their calving rate. An increase in calving rate of only 1 % in Mexico can have an economic impact of nearly $ 50 million; see tables below for the calculations.