Mastitis is estimated to cost the global dairy industry US$19.7 to US$32 billion annually, according to an article published by the University of Glasgow. The US alone estimates it loses US$2 billion to mastitis in dairy annually. According to a University of Montreal study, mastitis costs the Canadian dairy industry CA$400 million (US$310 million) annually or about CA$500 - $1000 (US$385 - 770) per cow annually.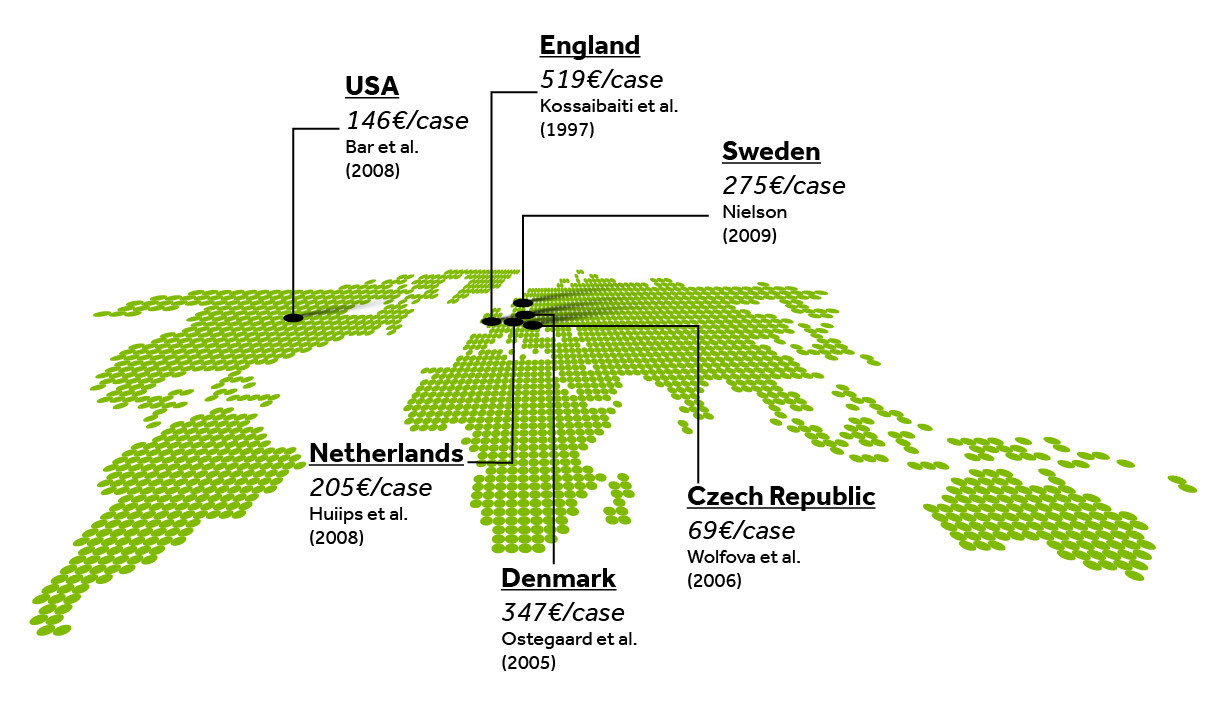 Mastitis is categorized as either clinical or subclinical.
With clinical mastitis, milk is typically visibly watery, thick or ropy, flakey, flocky, containing pus and blood or clots and often the quarter is red, swollen and painful.
A case of clinical mastitis may lead to an economic loss that ranges somewhere between US$128 (€ 105) and US$444 (€ 360) (Rollin et al. 2015; Cha et al. 2011; Huijps et al. 2008).
Total by approximate cost for clinical mastitis:

31% milk production losses
24% veterinarian and drugs
18% discarded milk
4% excess labor demand
23% premature culling
Subclinical mastitis is not visibly notable when looking at the milk, the udder appears normal. However, the somatic cell count of the cow's milk is slightly elevated, and microorganisms can usually be detected in a diagnostic sample.
A study conducted by the University of Wisconsin's Pam Ruegg estimates the overall product loss of subclinical mastitis at US$110 per cow annually.
A case of subclinical mastitis may cause a production loss that ranges between 10% and 20% less milk over a lactation per cow and year. Subclinical infections are very important to identify because they can cause a longer infection that can reduce milk quality and volume. The greatest economic losses are attributed to high bulk tank somatic cell count resulting in loss of quality premiums and overall lower milk production.