History
Most dairy historians agree that Brown Swiss or Braunvieh cattle are the oldest of all dairy breeds. The beautiful brown cows were developed in the north-eastern part of Switzerland. Bones found in the ruins of Swiss lake dwellers date back to probably 4000 BC, and have some resemblance to the skeleton of today's Brown Swiss cow. Documentary evidence shows that the Benedictine monks residing at the Einsiedeln Monastery started breeding these cattle as early as approximately 1000 years ago.
The canton of Schwyz was the scene of most of the early improvement of the Brown Swiss, and in Switzerland the breed is often referred to as Schwyer or Brown Schwyzer.
All the cantons in which the breeds originated are inhabited by German speaking people, and apparently large cattle were brought in from Germany to improve the cattle of Switzerland, which until about 1860 were often lacking in size. And for that fact the Swiss Brown is also known as Braunvieh.
Many people refer to Braunvieh as Brown Swiss and want to know the difference between the two. Brown Swiss dairy cattle were in fact developed from the Braunvieh beef cattle. Braunvieh was an extremely good milking beef breed and, many years ago, some animal breeders selected the best milking Braunvieh and began breeding these selected individuals for milk production. After many generations the dairy type was developed, and thus the Brown Swiss dairy cattle.
Switzerland, the native home of the Brown Swiss is a very rough and mountainous country with a total area of about 15,940 square miles. However, approximately 25 percent of the area is covered with rocks, lakes, rivers, snow-capped mountains, and glaciers, and there are only about eight million acres of productive land of which one half is used for hay and pasture. Switzerland has been noted as a cheese producing country for many years, and in the summer many of the dairy herds are taken into the mountainous regions and are grazed on the abundant pastures and meadows that result from the heavy rainfall.
A background of extreme terrain and weather has produced a cattle breed world renowed for many definitive characteristics. Today the Brown Swiss is the second largest dairy breed in the world with a reported over 8 million registered cattle and the world population estimated at over 14 million head.
Characteristics
The Brown Swiss or Braunvieh is light brown in colour with a creamy white muzzle and dark noze, dark-blue eye pigmentation which helps the breed to resist extreme solar radiation. Brown Swiss cattle have been bred horned and polled, when horned the horns are short and white growing dark towards the top. Brown Swiss are robust, a prolific breeder, long-lived, strong, adaptable, and very well-balanced in build with good hooves and limbs.
This breed has a double utility as they are used for dairy and beef purposes providing good milk and meat output.
Milk producers throughout the world are adding Brown Swiss to their herds daily, because of the good milk, protein, and butter fat production. Their correct feet and legs allow them to stay in the milking herd for more lactations than many other breeds.
The milk of the Brown Swiss cow is coveted by cheese makers. The volume of milk plus the protein produced by Brown Swiss makes the best milk for the fluid and cheese markets. Brown Swiss breeders benefit from the best fat-to-protein ratio of any of the dairy breeds for production of most cheeses.
Statistics
Close protein/fat ratio - Brown Swiss milk possesses the closest protein/fat ratio of any dairy breed.
Feet and legs - Properly structured legs allies to strong, hard, black, well formed feet, that mean Brown Swiss cattle have few problems. No doubt this is one of the key qualities that enable many Brown Swiss to continue producing in the herd until they are 12-15 years of age.
Quiet Temperament - Dairymen, members of the association, all of whom have worked with a variety of breeds are completely unanimous in their praise of the docile temperament and inquisitive nature of these quiet cattle.
Longevity - The characteristic longevity of the breed is very evident in the Brown Swiss. While the breed tends to be later maturing than other breeds, cows tend to reach their peak in 5th or later lactations. Some breeds find it difficult to reach this stage, while the strength of the Brown Swiss allows them to lead long productive lives.
Strength & Hybrid Vigour - Brown Swiss cows are cattle of great substance and strength. The experience of having cows 'go down' with metabolic problems or any other reason is rare amongst Brown Swiss owners.
Brown Swiss are renowned for their role when crossed with other dairy breeds or for that fact with beef breeds as well, in generally improving the production and strength of the parent breed. This is evident throughout the world from the tropics to the alpine regions.
Braunvieh bulls are noted for their scrotal and testicular development at a young age and are capable, fertile breeders at 12 to 14 months of age.
Comparative
Growth

Source: US Meat Animal Research Center
Braunvieh-cross females produced 5% more weaning weight than the traditional Hereford-Angus cross females and from 4% to 11% more weaning weight than any other Continental cross females. Economically, any commercial cow-calf operator that can increase the pounds of calf weaned per cow exposed by 4 to 11% has a tremendous economic opportunity to increase the herd's profit potential. By combining this calf weight-per-cow-exposed advantage with the 7% increase in conception rate from the use of Braunvieh bulls, the economic advantage for using Braunvieh genetics becomes significant. The following chart shows Braunvieh's advantage for calf 200-day weight per cow exposed.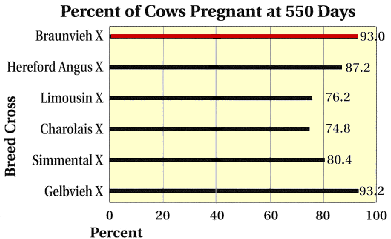 Source: US Meat Animal Research Center
Milkiness
Further data from the US Meat Animal Research Center shows why Braunvieh and Braunvieh-cross females make such good mothers. The date reveals that they rebreed and calve on a regular basis and milk sufficiently to produce heavy calves at weaning.
Calving
Increased Calf Survival: 10 to 15%
Increased growth of crossbred calves: 4 to 11%
Increased weaning weight due to more milk: 4 to 11%
Fertility
Increased Fertility: 10 to 15%
Bull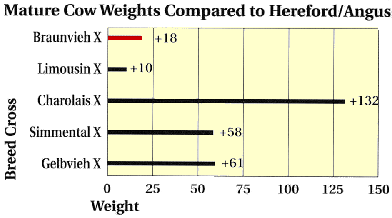 Source: US Meat Animal Research Center
A documented example of Braunvieh fertility comes from Texas A&M Research Center, Uvalde, Texas, where, as part of a research project, the center turned out five Braunvieh bulls and five bulls of another heat-tolerant breed with 266 crossbred cows. When the calves were DNA verified to their sire breed, the Research center found that 68% of the calves were Braunvieh-sired.
Dam

Source: US Meat Animal Research Center
Braunvieh and Braunvieh cross females are sexually mature at a young age. At the U.S. Meat Animal Research Center (MARC), Clay Center, Nebraska, it was shown that the average age of puberty for Braunvieh cross heifers was 332 days and the percent of Braunvieh cross heifers pregnant at 550 days was 93%. These figures are graphed to illustrate a comparison for the Braunvieh cross females versus the other breed crosses in this MARC study.
Meat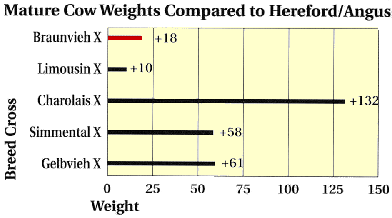 Source: US Meat Animal Research Center
The superiority of Braunvieh genetics for producing more pounds of marketable weight was first verified at the US Meat Animal Research Center where Braunvieh-cross females produced 4% more calf weight per cow exposed than their nearest competing breed cross.
Braunvieh cows will typically weigh 1,100 to 1,500 pounds and mature bulls 1,800 to 2,500 pounds. While moderate in size and frame, Braunvieh females and bulls will pass on their muscle, superior quality grade, growth rate and efficient feed conversion to their progeny. The cost of gain for Braunvieh and Braunvieh-cross cattle is comparable to, or less than, all other breeds and, because they are of moderate size and have the inherent ability to grade choice, Braunvieh and Braunvieh-cross cattle can be harvested from a feedlot situation at a live weight that eliminates days on feed other Continental breeds take to reach marketable condition.
Distribution
As the Brown Swiss or Braunvieh is very popular within the dairy and beef industry, it can be found in over 60 countries from the Tropics to the Arctic Circle including Europe, the USA, South America, Canada, Australia, South Africa and New Zealand.
References
(the above information was cited from the following sites)
www.gatewaybbs.com.au
www.ansi.okstate.edu
http://homepage.braunvieh.ch
http://browncow.ca
www.fieldstonebraunvieh.com
www.holsteinworld.com/Bo-Joy/home.htm